Open house
Open house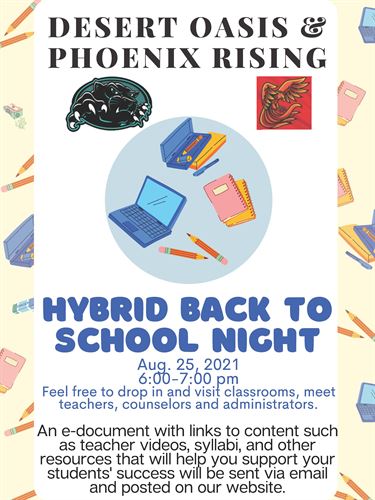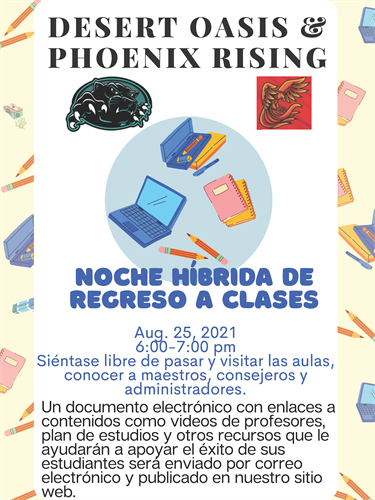 COVID-19 VACCINES
COVID-19 VACCINES
In partnership with the Imperial County Department of Public Health, we will provide free COVID-19 vaccines (Pfizer). Students (ages 12 and up ), their parents, and staff are welcome to participate in one of these clinics. Students must have a signed consent form.
En asociacion con el Departmento de Salud Publica del Condando de Imperial, proporcioremos vacunas COVID-19 (Pfizer) gratuitas. Los estudiantes (de 12 anos en adelante), sus padres y el personal pueden participar en una de estas clinicas. Los estudiantes deben tener un formulario de consentimiento firmado.
Consentimiento para la vacuna Pfizer para individuos menores de 18 anos -
haga cliq aqui
Desert Oasis High School
Room #17
Salon #17
August 25, from 12:30 pm to 2:00 pm
September 15, from 12:30 pm to 2:00 pm
DOHS is a Model Continuation HIgh School
DOHS is a Model Continuation HIgh School
Once again, DOHS is recognized by the California Department of Education as a Model Continuation High School! All the teachers, counselors, principal and staff work diligently to make the school an exceptional place to learn!
About Us
Desert Oasis High School is a school that provides students an opportunity to meet high school graduation requirements, such as the appropriate course credits. Our small student population is appealing to students who prefer a more individualized program. Our primary goal is to offer students the tools and opportunities to succeed in obtaining a high school diploma from the Central Union High School District.
Learn More